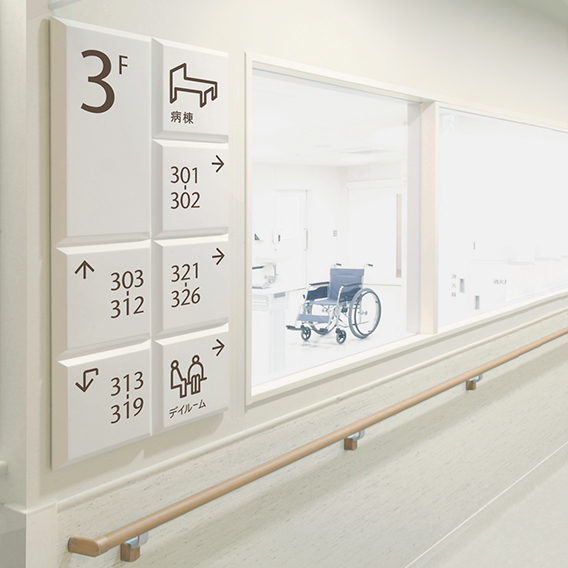 心臓血管研究所付属病院
Cardiovascular Institute Hospital
白い空間に白いサイン。単純でありながらそれで何ができるかということが、発想の第一歩である。白であるがゆえの素材感や質感に着目し、MDFを削り出して生まれるやわらかな立体感と、白だからこそはっきりと現れる影の表情をサイン本体のデザインポイントとし、深い溝状の彫り込みによって生まれた矩形を一つの単位として、情報を合理的に配分した。
案内サインというものが、単なる情報伝達の役割だけに終始しがちなことに対し、たとえば患者や家族が思わず触れてみたくなるような魅力を、ふんわりと親しみのある形で表現した。
ともすれば殺風景で冷たくなりがちな医療空間において、サインが患者と施設との距離を縮められるひとつの空間要素となりえるようにイメージし、作成した。
White sign in white space – the first step for this project was the examination for what we could realize with such a simple combination. We focused on the material and texture with white color, and used three-dimensional shape MDF board by cutting and its shade emerged by contrast with white color as design point of the body. Then, we distributed required information reasonably on the square shape divided by deep curving.
Usually way finding sign play communicating information only, but we tried to give an attraction that patients and their family could not help touching to the body with a familiar shape for this hospital sign.
We hope that this sign system could become one of elements which bring patients and hospital closer together, although people feel a dreary and cool atmosphere to the most of medical facilities.
lo : 東京都港区
ar : 竹中工務店
cl : 公益財団法人 心臓血管研究所
lo : Tokyo, Japan
ar : Takenaka Corporation
cl: The Cardiovascular Institute