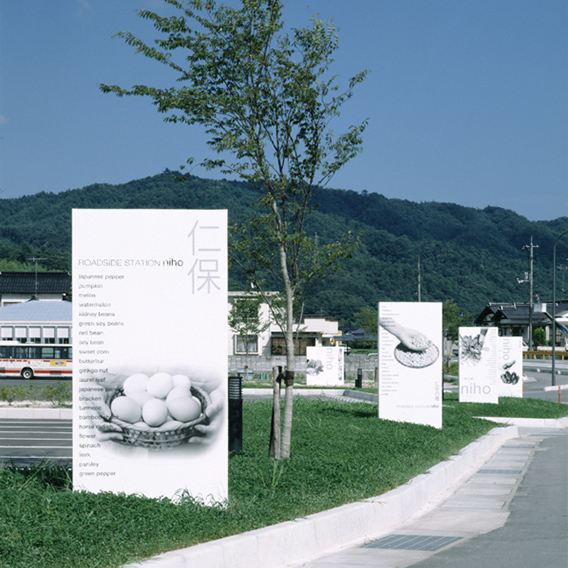 道の駅 仁保の郷
Roadside Station Niho
仁保は山口市の北部に位置し、農業の盛んなのどかな山里である。新設された道の駅「仁保の郷」は、地場産のヒノキ材を取り入れたシンプルで開放的な建築で、内外を貫くブリッジによって館内全体を様々な視点から眺めることができる。地域住民が生産した農産物の販売と住民のコミュニケーションの場としていつも賑わいをみせている。
サイン計画では、仁保地域で生産されている100種以上の農産物に着目し、それをデザインソースとして展開することで、地域のアイデンティティーを見える形にした。
Roadside stations are facilities promoted by the Ministry of Land, Infrastructure and Transport for users of general roads, usually including resting space, lavatories, road information and shops.
This Roadside Station Niho no Sato was newly built in the north outside district of Yamaguchi city. The building is designed simply and has an open feeling using local Hinoki, Japanese cypress. People can see the view from various viewpoints on the bridge. It is always busy with visitors and residents as the place of shopping and local communication.
The sign planning was developed under the theme of the rich variety and abundance of agricultural products which are this region's identity and shows their names and signs in a visual way.
lo : 山口県山口市
ar : プランツアソシエイツ
cl : 山口市
lo : Yamaguchi, Japan
ar : PlantsAssociates
cl : Yamaguchi City