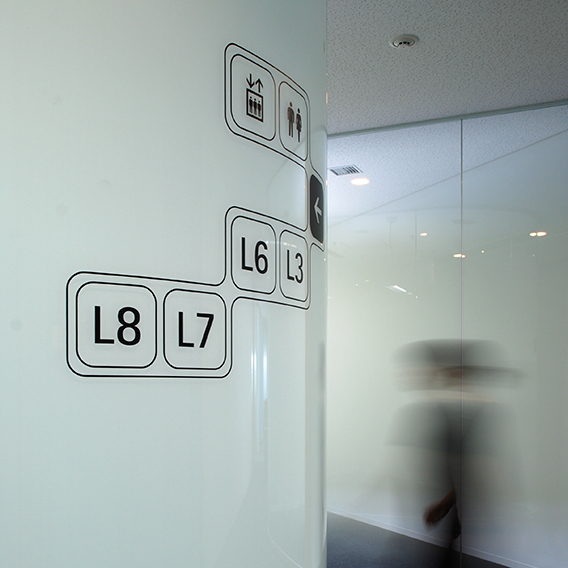 アステラス製薬つくば研究所
Astellas Pharma Laboratory
筑波研究学園都市にある製薬研究施設メイン棟のサイン計画。サインのイメージは、「製薬」と「研究」というところから、薬瓶に貼る「ラベル」をイメージし、ガラスの曲面をビンに見立てて表示した。この建物は、研究所のゲートの役割を持ち、来客を迎え入れるエントランスロビー、会議室と講堂、執務室、研究員の個室が設けられており、その他、図書室、フィットネス、食堂などの厚生施設も組み込まれている。そして、新薬の開発や実験を行う閉鎖された研究実験棟ともブリッジで連結していることから、そこへの誘導表示については、具体的な名称を使わず記号的表現を用いた。丸柱を利用したアドレス表示は、元素番号を用いて製薬会社らしい雰囲気を出した。
Sign planning for a newly constructed main building of a major manufacturer of pharmaceutical products in Tsukuba Science City. We got deign image from the keywords "pharmaceutical" and "laboratory",then used a labellike expression for sign and put those image into the glass curves. This building plays the role of gate to existing laboratory building and also has various functions such as entrance lobby, conference rooms and hall, work space, private room, and welfare facilities like library, fitness space and restaurant. Since this building is connected to the closed laboratory building for new medicine developments and experiments, we put only symbolic address without exact room names. Address display using chemical elements on columns give an air of pharmaceutical company's atmosphere.
lo :茨城県つくば市
ar : 竹中工務店
cl : アステラス製薬株式会社
lo : Ibaraki, Japan
ar : Takenaka Corporation
cl : Astellas Pharma Inc.