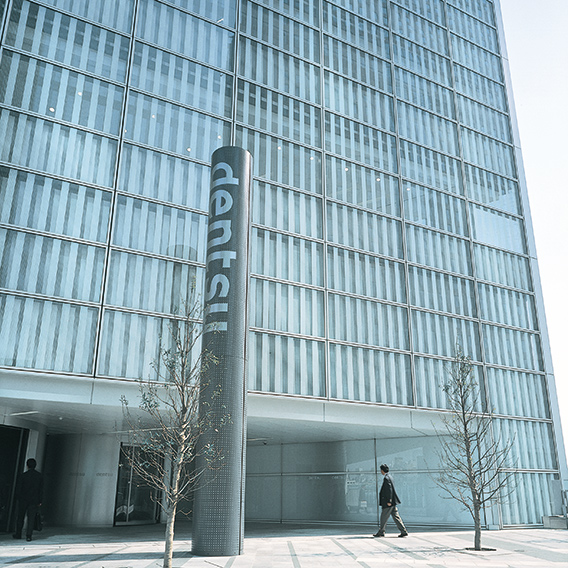 電通本社ビル
Dentsu Head Office
日本最大手の広告代理店、株式会社電通の本社ビルのサイン計画。建築はフランス人建築家ジャン・ヌーベルのデザイン。ジャン・ヌーベルの建築デザインのコンセプト「消えゆく建築」(varnishing architecture)というテーマをサインにも取り入れ、ガラスの透明性を生かした表現や、グラデーションなどの「うつろい」をデザインコンセプトとした。サイン本体の素材は、ガラスと金属の接着や合わせガラスを用い知的創造空間にふさわしいハイクオリティーなデザインを試みている。
Sign planning for the head office building of Dentsu Inc., a major advertising agency in Japan. The architecture was designed by the French architect Jean Nouvel. With "illusion" as the design concept, including expressions utilizing the transparency of glass, gradations and others, we incorporated the theme of Jean Nouvel's architectural design concept, "vanishing architecture" into the signs. The signs themselves are made of glass bonded to metal, or of other bonded glass, for a high-quality design suitable for a space of intellectual creation.
lo : 東京都港区
ar : アトリエ・ジャン・ヌーベル + 大林組
cl : 株式会社電通
ph : 丹青社
lo : Tokyo, Japan
ar : Ateliers Jean Nouvel + Obayashi Corporation
cl : Dentsu Inc.
ph : TANSEISHA Co., Ltd.