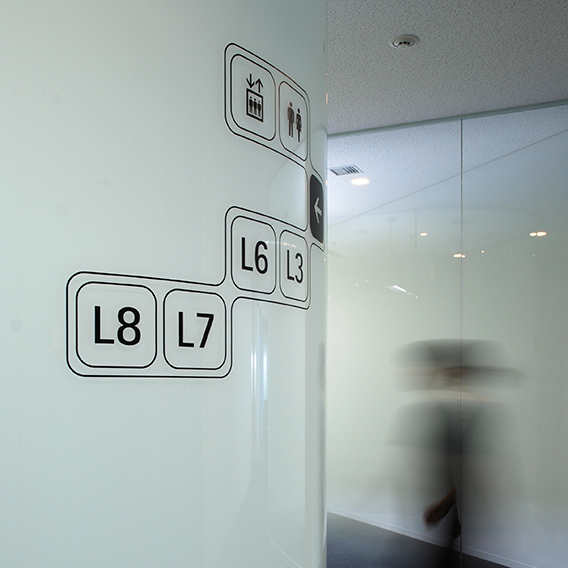 アステラス製薬つくば研究所
Astellas Pharma Laboratory
筑波研究学園都市にある製薬会社の研究施設内部のサイン計画。サインのデザインイメージは、「ラベル」で、これは薬瓶のイメージと建築の意匠面(曲面ガラスが多用されてい)からヒントを得たものである。
この施設は、新薬の開発や実験を行う閉鎖的な研究棟と連結しているため、一般の人は入ることができない。サインの表記についても、社内で働く人に対しても具体的な部屋名にせず記号的なアドレスとしている。アドレスには薬品メーカーらしく元素記号を用いている。
Sign planning for a pharmaceutical company research facility located in Tsukuba Science City. "Labels" serve as the design motif for the signs. This idea sprang from labels on medical bottles and from the architectural characteristics of the facility, which features a large number of curved glass surfaces.
Outside visitors are not admitted to this facility, as it adjoins a closed laboratory complex where new medicines are developed and experiments performed. The sign lettering reflects the level of secrecy, with rooms indicated with symbolic "addresses" rather than names spelled out, even in locations only viewable by company employees.
lo :茨城県つくば市
ar : 竹中工務店
cl : アステラス製薬株式会社
lo : Ibaraki, Japan
ar : Takenaka Corporation
cl : Astellas Pharma Inc.